W
illets fly about marsh prairies and rocky shorelines but are most common on Texas beaches and mudflats, foraging in the shallows of the waves' backwash and among the leavings from high tide. They are bulkier and have longer legs than many other shorebirds, enabling them to wade into deeper water.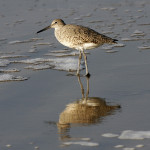 CATOPTROPHORUS SEMIPALMATUS
• Length: 15 inches
• Wingspan: 26 inches
• Season: Year-round
More about Willets.
Where they are, and when.

Outside of breeding season, they are a dull gray, but have a striking black and white wing pattern that is unmistakable as they fly along shoreline. Yellowlegs are distinguished by, well, their yellow legs. Godwits are more colorful and have a pronounced upturn in their bills.
The problem is, there are two types of Willets that overlap on the Texas Gulf Coast – the Eastern and the Western – and the distinctions are subtle. Overall, the Western Willet dresses in paler colors and is slightly bigger with longer legs, a longer neck and a longer, thinner bill.
Eastern Willet are spring and summer migrants that breed on coastal salt marshes and barrier islands; they typically arrive on the Texas coast in March and depart by late July. They build their nests in tall grasses near salt marshes and on bare ground or short vegetation by sand dunes.
Western Willets are here year-round. They arrive on their wintering grounds in Texas in early July and depart for their northern breeding grounds by the end of May, but a significant population spends the summer on our coast mudflats.
Willets walk with a deliberate stride, poking for prey in the sand and mudflats. The Western Willet, with its longer legs, will wade into deeper water.