• • •
P
iping Plovers forage between the waterline and the dry sand higher on the beach with a run, stop, peck and run again approach. They are stocky little birds with a short neck, stubby bill and a rounded body perched on two orange legs.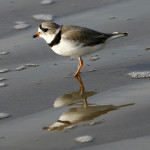 CHARADRIUS MELODUS
• Length: 7.25 inches
• Wingspan: 19 inches
• Season: Winter
More about Piping Plovers.
Where they are, and when.

A solitary black headband on their forehead during breeding season and overall paler appearance distinguishes them from the similar Semipalmated Plover, which sports two bands – a mask across its eyes and a smaller one just above its bill. Both have an orange bill with a black tip when breeding. In the off season, the Piping Plover sheds its dark markings to become a dull sand and white.
They feed on crustaceans, mollusks, worms and other small marine animals.
Piping Plovers are winter visitors to the Gulf Coast and Mexico and begin appearing here in the fall. They spend their summers, mate and raise their young in Canada, the Northern Plains, the Great Lakes and the Northeast Coast. They are considered endangered in the Great Lakes region and threatened in the plains and on the east coast.