• • •
N
eotropic Cormorants are equally at home in the Gulf behind the wave break or on freshwater ponds inland. In either case, they often ride low in the water with little more than their neck and head protruding. They are rarely without company – a least a partner and often a large flock.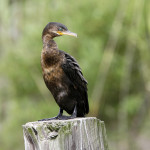 PHALACROCORAX BRASILIANSUS
• Length: 25 inches
• Wingspan: 40 inches
• Season: Year-round
More about Neotropic Cormorants.
Where they are, and when.

They closely resemble their cousin, the Double-Crested Cormorant. But Neotropics are smaller, have a relatively longer tail and, most distinctively, have brown feathers in front of their eyes compared to the orange skin of the Double-Crested. In addition, Neotropic Cormorants have a white "V" at the back of their bills that become more prominent during breeding season.
Starting from a low height, they dive sharply for small fish and shrimp, their wings pulled close to their bodies. Sometimes, they work with other cormorants to herd them by flapping their wings on the water.
Neotropic Cormorants are common in the waterways of Central and South America, and the Texas Gulf Coast is close to the northern limit of their range.