• • •
D
unlins forage on Gulf Coast beaches and mudflats, both alone and in large flocks by the hundreds. During breeding season they are hard to mistake for other shorebirds, with their long, drooping bill, rufous plumage and distinctive black patch on their belly. At other times, they are a dull brown and gray, the color of wet sand.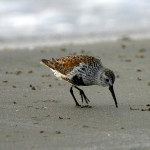 CALIDRIS ALPINA
• Length: 8.5 inches
• Wingspan: 17 inches
• Season: Winter
More about Dunlins.
Where they are, and when.

In large flying flocks, they turn in unison like a school of fish, flashing their white underside. They especially display their acrobatics when threatened by a Peregrine Falcon or other predator.
Dunlins feed day or night, depending on the timing of low tide, picking marine worms, crustaceans and mollusks from the water, or probing for them in the mud with their bill.
Dunlins breed on the wet coastal tundra of northern Canada and Alaska and winter along the mudflats, marshes, fields, beaches and ponds of the East, West and Gulf Coasts. They arrive later than other shorebirds on their wintering ground and are among the last to leave in the spring.